About the Authors
Alexander Kozachinskiy
Scientific Researcher
Department of Mathematical Logic
Steklov Mathematical Institute
Moscow, Russia
kozlach[ta]mail.ru
https://kozlachinskiy.github.io/
Alexander Kozachinskiy
grew up in Moscow. For about 10 years, he was at the Moscow State University, first as an undergraduate, and then as a Ph.D. student advised by
Nikolay Vereshchagin
. He defended his thesis titled "Comparison of Communication, Information and Decision Tree Complexities" in 2019. Currently he works as a research fellow at the
Steklov Mathematical Institute
. He likes to invent algorithms in areas like Circuit Complexity, where people are mostly interested in lower bounds. Besides complexity, he works on Graph Games.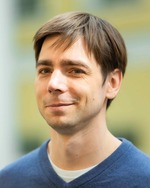 Vladimir Podolskii
is a leading scientific researcher at the
Steklov Mathematical Institute
. He also holds a part-time position at
HSE University
. His main research interests are computational complexity, tropical algebra and logical foundations of computer science. He graduated from
Moscow State University
in 2009, advised by Nikolay Vereshchagin (and earlier by Alexander Razborov).